What is Coordinated Entry?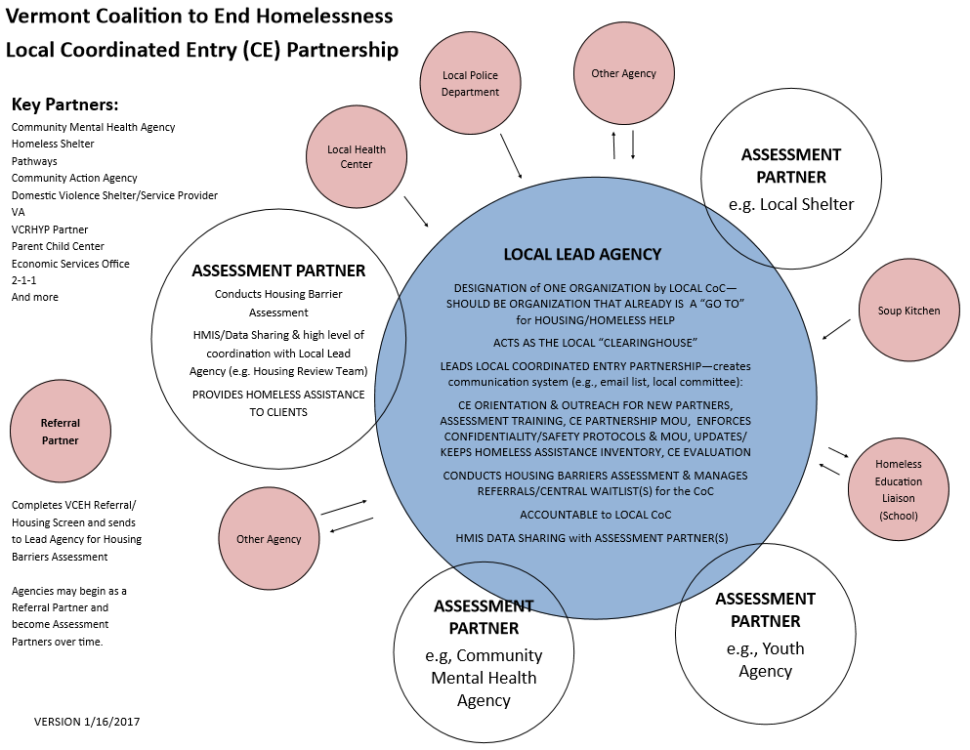 (Click image to enlarge)
Paving the way for more efficient housing assistance, Coordinated Entry (CE)  is a process that ensures people experiencing a housing crisis have fair and equal access and are quickly identified, assessed for, referred and connected to housing assistance based on their strengths and needs. Through the "No Wrong Door" approach to Coordinated Entry that VCEH is implementing, Vermonters experiencing or at risk of homelessness are able to quickly access the assistance they need, without having to call or be turned away.
VT-Specific: Background & Policies
Coordinated Entry Lead Agency Contact List
December 2017
VCEH CE Partnership Model
January 2017

Coordinated Entry Partnership – Veterans
November 2015
VCEH Coordinated Entry Workgroup – Summary Paper 
December 2014
Coordinated Entry Partnership Webinar
Coordinated Entry Policies & Procedures Webinar
Slides of Policies & Procedures Webinar
National Resources
Coordinated Entry Webinar
National Alliance to End Homelessness
Coordinated Entry Policy Brief
U.S. Department of Housing and Urban Development
Planning
The VCEH has established a Coordinated Entry Committee to plan and support the creation and implementation of a Coordinated Entry System for the Balance of State Continuum of Care. The Committee meets the 3rd Tuesday of every month, 12:30 – 3:00pm in Randolph following the VCEH Board meeting.  The Committee strives to use a planning process that is inclusive and open, including Lead Agency representatives from the Local Continua of Care.  Minutes are posted on this website.  Meetings are open and all are welcome to attend.
Join Us!
For information about the VCEH Coordinated Entry Committee, contact Sarah Phillips 
For information about the Chittenden County Coordinated Entry Committee, contact Chris Brzovic